Shifting Ground (Cracked Façade) 1990 on the Art Gallery of New South Wales, Sydney.
A large cloth 'earthquake crack' was installed on the facade of the Art Gallery, in collaboration with fabric specialist Caroline Jones. Shifting Ground was made as a part of an exhibition of Newcastle artists in the gallery foyer, after the serious earthquake in 1989. Many homes and studios had been damaged. Richard Tipping had moved from Sydney to Newcastle in late 1988 to begin the 1989 teaching year as a lecturer at the University of Newcastle. He experienced the earthquake with his family at home, and says it felt like a large truck crashing into the house, sending things on shelves flying. Tipping's contribution to the Newcastle artists exhibition was to 'crack' the facade of the Art Gallery.
Includes sign: Danger Shifting Ground and plastic fencing along the whole of the facade of the gallery.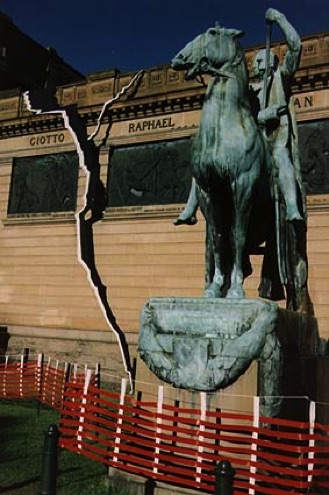 These low-res images will be replaced when the originals are found.
(c) Richard Tipping All text and images are copyright and protected by international legislation. See the Copyright page for more information. For permission to use any of these materials please email: info at richardtipping com