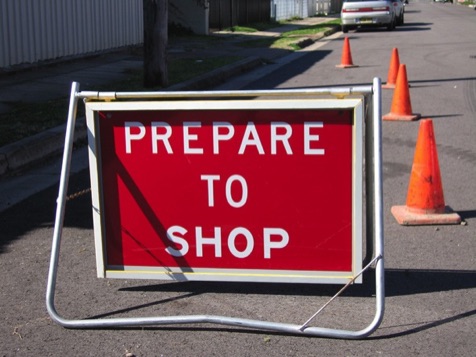 Prepare to Shop © Richard Tipping 2004. Edition of 9. Collections including Maitland Art Gallery, NSW, Australia, gift of Pat Corrigan

(c) Richard Tipping All text and images are copyright and protected by international legislation. See the Copyright page for more information. For permission to use any of these materials please see Contact page.
Sign multiples (postcard-sized pressed-aluminium artsigns in open editions) were distributed by the Museum of Modern Art, New York, both online and in store for ten years from 2007-2016. Sales reached over 20,000 signs. MoMA Store is closed during major renovations at MoMA, re-opening in 2018 or 2019.
Artpoem and Thorny Devil Press have published screenprints, small books, postcards, stickers, metal artsigns, and so on, by Tipping since 1989.
The website Artpoem.com is currently being rebuilt. The existing site dates from 2009. The PayPal link needs to be fixed.

Managing Director, 1984. Desk plaque, engraved, perspex with gold paint, edition of 21. Made in Milan during a residency at the Besozzo studio of the Australia Council's Visual Arts Board. Long out of print.
Redfoxpress in Ireland published Tipping's Subvert I Sing in their C'est Mon Dada series in 2008. This available at:
PressPress published Tommy Ruff, a collection of poems about his Adelaide days. This is available at: