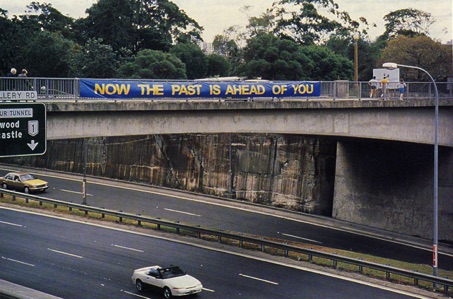 NOW THE PAST IS AHEAD OF YOU was one of two double-sided banners, each 18 metres long.
Commissioned for the Biennale of Sydney, 1992, directed by Tony Bond.
The banners were stretched across Art Gallery Road Bridge over the Cahill Expressway (a major feeder to and from the Sydney Harbour Bridge). Four one-line poems formed a sequence as the two banners installed in turn, changing each week. The four one-line poems are:
ART IS A PANE IN THE GLASS
TIME GOES BY IN GREAT BLASTS
NOW THE PAST IS AHEAD OF YOU
STONE COLD SOBER AT LAST
The phrase STONE COLD SOBER AT LAST was first carved into granite in 1978. The words found a new form and context on the banner. When this banner was first attached, it was stolen on the first night and never recovered - which generated some interesting publicity.
from The Boundary Rider: 9th Biennale of Sydney, page 230:
"Tipping is a concrete poet whose puns often embody significant ideas within their humour. In the Biennale he will be represented by a changing banner on the bridge over the Cahill Expressway adjacent to the gallery and bumper stickers that will be distributed by the Biennale and the artist."
Art is a Pane in the Glass, 1992. Banner installation for the 9th Biennale of Sydney. Photograph © Richard Tipping.