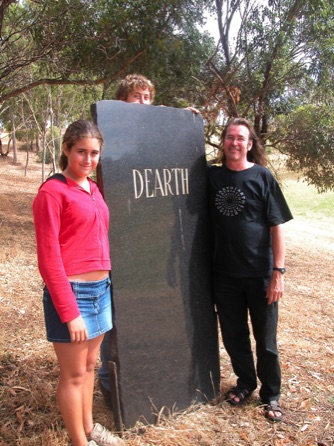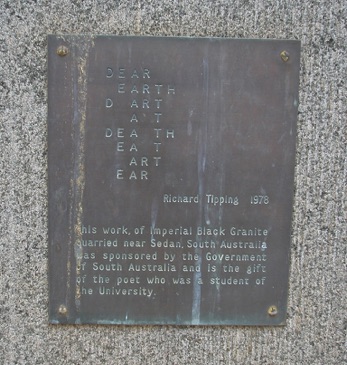 Excerpt from Richard Tipping's doctoral essay Word Art Works: visual poems and textual objects, University of Technology Sydney, 2007.
"I found that the word dearth contained – without changing the position of any of the letters - the words dear earth dart death eat art, to make sequences including 'dear earth art ear' and 'dart at death'. I applied for and won a grant from the South Australian government to make a full-scale version of Dearth for the solo exhibition The Everlasting Stone at the Adelaide Festival Centre Gallery in 1978. The text was hand-cut into a large slab of black granite by master mason Helmut Schneider at the Monier Granite factory in Gepps Cross. After being shown in the exhibition, Dearth sat in my front garden in Adelaide facing the street for a year, before being donated to Flinders University. Dearth is a memorial to absence, while the words within the word flow into its other possibilities".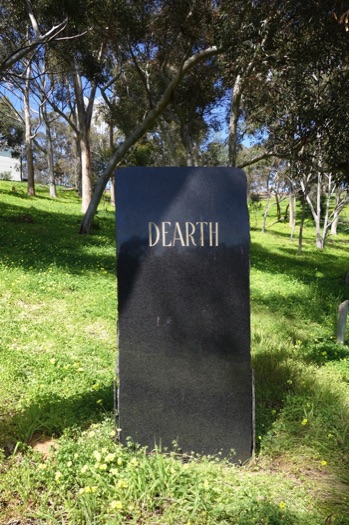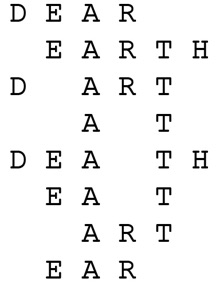 Plaque text:
"This work of Imperial Black Granite quarried near Sedan, South Australia was sponsored by the Government of South Australia and is the gift of the poet who was a student of the University. Richard Tipping 1978."
When the sculpture was installed in 1979 it was set lower into the ground than agreed. Re-installing Dearth in a more sympathetic site on the campus is a current project for the artist, in assocation with Flinders University.
Photograph of the artist with his children Grace and Jasper circa 2003.
Black granite, hand-engraved text, goldleaf. Gift of the artist. Photograph of Dearth © Richard Tipping 2014.
Dearth was installated at Flinders University in Adelaide in 1979.
The Dearth sequence - imagined as an animated one word poem.
© Richard Tipping 1978