Hearth installation at the Botanic Gardens in Frankston, Victoria. Photograph by Mark Themann. Mark managed to borrow a cherry picker and bring it to the botanical gardens to get this aerial shot.
For a temporary public artwork, it's hard to beat using grass! In 2008 Richard Tipping was commissioned by Frankston City Council (near Melbourne) to come up with an idea for their White Street series of art projects. His solution was big, cheap and very green.
Artist Statement: "I installed a 15 metre square word work in the lawns of the George Pentland Botanic Gardens using shapes of a stencil font cut-out in black plastic. The material was thick builders' plastic, which has no light show-through and would sun-starve the grass. It took a lot of calculation to scale the letter segments up to make a composite piece metres by 15 metres, and more than six hours for two people to cut out the segments.
The plan was that these segments would be secured to the lawn, using weed mat pins (which are shaped like a letter U). I calculated that we needed over 900 of these pins, which weighed over 20 kilograms. I flew to Melbourne with the packs of pins and the cut plastic in suitcases. My son Jasper joined me at Flinders Street train station for the train ride to Frankston. On site was Mark Themann, an artist working as the White Street project co-ordinator. We laid out the grid for the 36 letters using over 200 metres of string in a grid which was 15 x 15 metres square. Laying out the design and putting in all of the weed mat pins took the three of us more than six hours, bending like emus, while the gardens' birds looked on with amusement.
Melbourne had been in a long drought and strict water restrictions were in place, but the botanical gardens has its own bores so water was available. Over the next six weeks the gardens staff kept the grass between the letters on a fertiliser diet with constant watering. Then the plastic and the pins were all removed, and the grass was mown. The local ducks had a feast with all of the insects exposed. Hearth was visible for many months as the grass slowly regrew and the artwork "
Concept, design and production by Richard Tipping 2008. Support team: Alan Prowd (studio assistant), Jasper Tipping (landscape designer), Mark Themann (project co-ordinator for the White Street Project in Frankston). Funding: Frankston City Council, Victoria.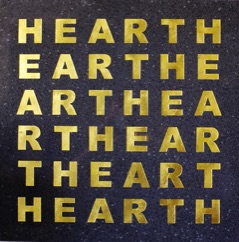 Hearth on a porcelain tile, 60 x 60cm, engraved text finished with goldleaf, 2008. Edition of three, of which number 1/3 collection of ArtBank, Australia.
(c) Richard Tipping All text and images are copyright and protected by international legislation. See the Copyright page for more information. For permission to use any of these materials please see Contact page