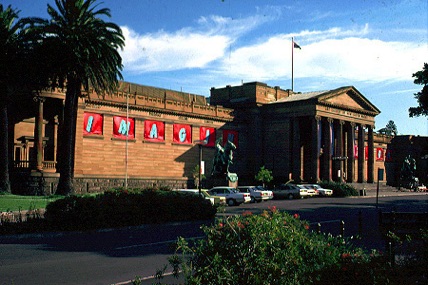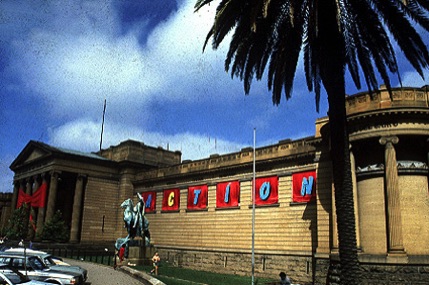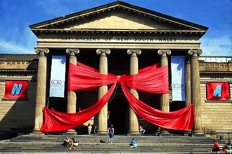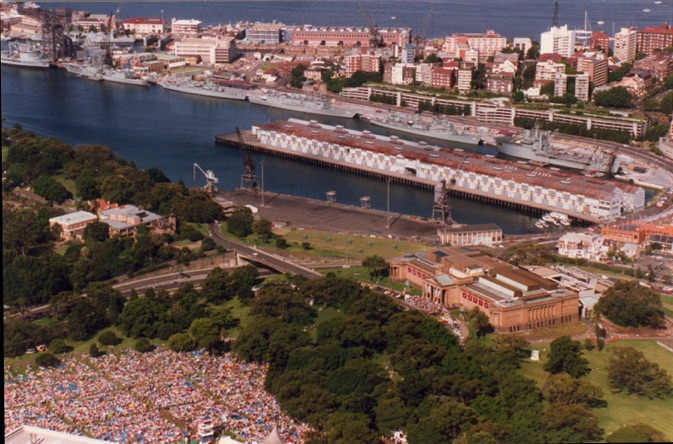 IMAGINACTION
Imaginaction, 1988, Art Gallery of New South Wales, Sydney. Manufactured in collaboration with fabric specialist Caroline Jones. Imaginaction was commissioned to celebrate the opening of a new wing of the gallery. Large cloth banners were placed in twelve sandstone frames along both sides of the entire facade.
The bow was temporary, just for the opening event, and designed to open on command. A sudden rain storm prevented this from being a part of the huge launch party. After a few days the bow was removed, and IMAGINACTION stayed in place for more than six months.
Photograph © Richard Tipping 1988 taken from the Sydney Tower. There is a huge crowd in the Domain park nearby, and another crowd in front of the Art Gallery of New South Wales. The twelve banners spelling IMAGINACTION are clearly visible on the gallery's faacade. The word 'Imaginaction' was invented by Richard Tipping for this public art installation in 1988.
A large framed collage of cibachrome photographs of IMAGINACTION was purchased by the Art Gallery of NSW. This is illlustrated in their collection.
(c) Richard Tipping All text and images are copyright and protected by international legislation. See the Copyright page for more information. For permission to use any of these materials please see Contact page