Swinging Voter, Wechselwaehler - Kassel, Germany 2015. Manufactured and installed by Horizont, based in Korbach. Thanks to Dirk Trompeter and staff.
Dimensions, materials: Traffic 'Leitboys' with reflective tape, on heavy base support. Photographs by Richard Tipping. Installed for Werk Kunst Werk (Work Art Work) curated by Jurgen Olbrich.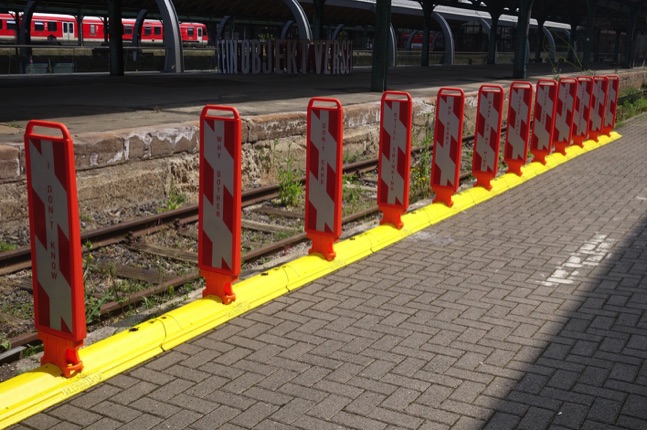 WECHSELWAHLER SWINGING VOTER
VIELLEICHT PERHAPS
ENE MENE MUH EENEY MEENEY MO
VERLEICH MAYBE
ODER NICHT MAYBE NOT
GEHT SCHON KIND OF
EIN BISSCHEN SORT OF
MOGLICH POSSIBLY
ABHANGING VON IT ALL DEPENDS
WART'S AB WAIT AND SEE
VERPASST ONLY JUST
TRAUM WEITER IN YOUR DREAMS
MAL SEHEN DECIDE LATER
NICHT WIRKLICH NOT REALLY
IST DOCH EGAL SAME DIFFERENCE
EINES TAGES ONE DAY
HALB WAHRHEIT HALF TRUE
GLUCK GEHABT A CLOSE CALL UNENTSCHLOSSEN MAKE UP MY MIND
EILT NICHT NO HURRY
MAL SEHEN STILL THINKING
MIR DOCH EGAL DON'T CARE
VERGISS ES WHY BOTHER
ICH WEISS NICHT I DON'T KNOW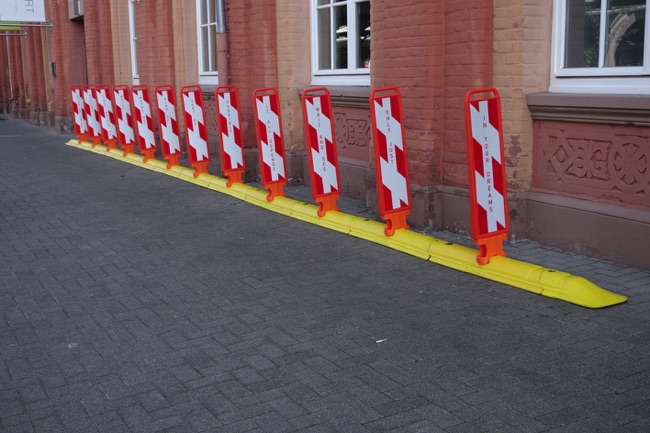 Wechselwaehler im / Swinging Voter in Conversation
Artist Statement
Swinging voters can define the results of a political election in unpredictable ways. Swinging voters are not necessarily committed to particular party or to a political policy, and can decide at the last moment, keeping their options open. In Australia, where we have compulsory voting, swinging voters are often considered negatively as people who haven't thought issues through and can be subject to last-minute influence by media. In Germany, with voluntary voting, I am told that swinging voters are often seen positively as people waiting for the final policy offers of political parties until deciding.
Many people are also swinging voters when it comes to art. They live in between opinions, delaying commitment, not making decisions, waiting to – if ever - say yes or no to this or that. Such indecision can be either a mark of sophistication and art world engagement (staying open to new ideas, refraining from immediate judgement) or of an inability or unwillingness to make considered personal or public judgements.
See Just Say Yes for the LED sign and reflective graphic sign also made for this public art project Werk Kunst Werk (Work Art Work) in Kassel in 2015
(c) Richard Tipping All text and images are copyright and protected by international legislation. See the Copyright page for more information. For permission to use any of these materials please see Contact page.