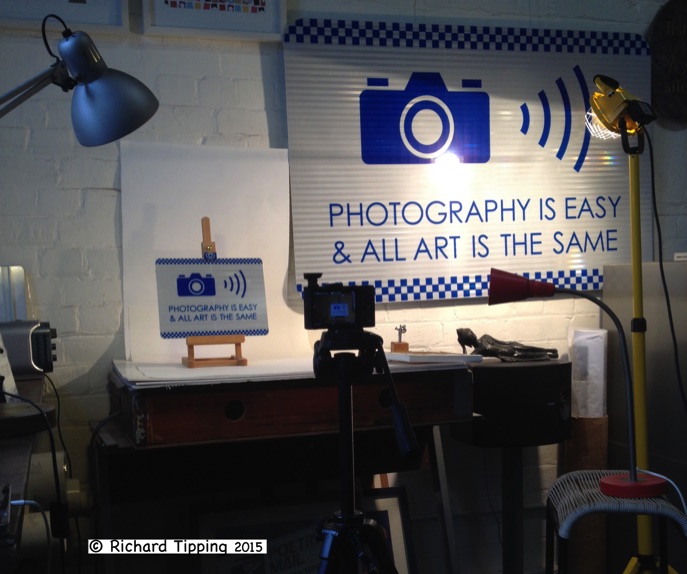 Photography is Easy, 2015. Another work in the 'Roadsigned' series, which started in 1979 with Airpoet. Reflective tape on aluminum. Dimensions: 87 x 132 cm. Edition of 4. Photograph © Richard Tipping,
Photograph showing the artist's camera framed to record the small version Photography is Easel. Reflective tape on aluminium, held on a wooden easel, with added graphic of a 'security camera eye' staring at the viewer. Dimensions: sign only 22 x 30 cm, size on easel 40 x 30 x 14 cm. Edition of 6.
Photography is Easy was exhibited in Sculpture by Sea at Bondi, Sydney, in 2015, in a pair with Reduce Need. This diptych has the title Speed Trap.
Statement on Speed Trap, for Sculpture by the Sea 2015
The ubiquitous Reduce Speed sign protects workers on public roads as they go about their endless repairs and improvements. Bright white letters on a red background with a yellow edge provide instant recognition to the approaching driver. In this artwork, the message has changed to Reduce Need. Now the viewer is instructed to reduce their own consumerism, and perhaps to question society's attitudes to consumption.
Nearby is the typical sign for a speed camera. Now the message becomes personal to visitors snapping their photos while visiting Sculpture by the Sea. The warning that Photography is Easy followed by the provocative All Art is the Same. Answer: neither is photography easy. This conundrum is inspired by Giuseppe Chiari's work "Art is Easy and All Music is the Same" in the 1990 Biennale of Sydney.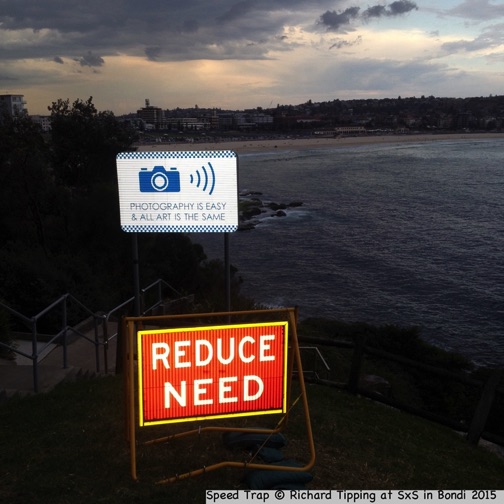 (c) Richard Tipping All text and images are copyright and protected by international legislation. See the Copyright page for more information. For permission to use any of these materials please see Contact page.