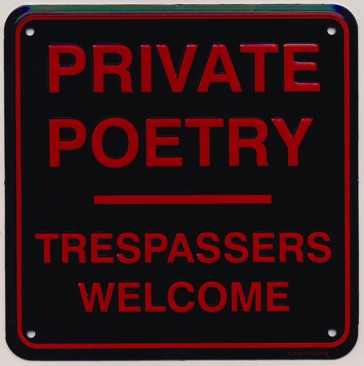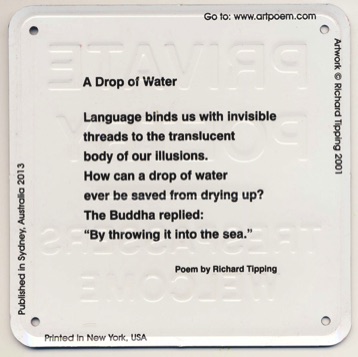 Private Poetry as a pressed-aluminium sign is available through the Museum of Modern Art Store in New York. Open edition. Dimensions 15 x 15 cm
Reverse side of Richard Tipping's Private Poetry as a pressed-aluminium sign available in-store through MoMA in NY. Open edition. Dimensions 15 x 15 cm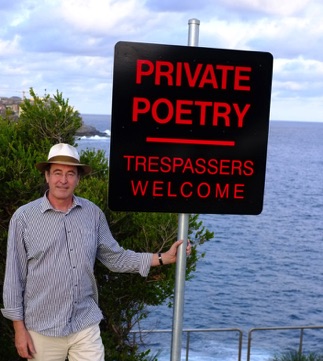 Richard Tipping with Private Poetry at the Sculpture by the Sea exhibition in 2011 at Bondi, Sydney. Photograph by Chris Mansell.
Private Poetry 2001/2012 Edition of 9 Reflective tape on aluminium 90 x 90 cm
Collection: Art Gallery of New South Wales Also collection of Brisbane City Council at the Powerhouse Centre for the Live Arts
A Drop of Water
Language binds us with invisible
threads
to the translucent body
of our illusions.
How can a drop of water
ever be saved
from drying up?
The Buddha replied:
"By throwing it into the sea."
© Richard Tipping
(c) Richard Tipping All text and images are copyright and protected by international legislation. See the Copyright page for more information. For permission to use any of these materials please see Contact page.