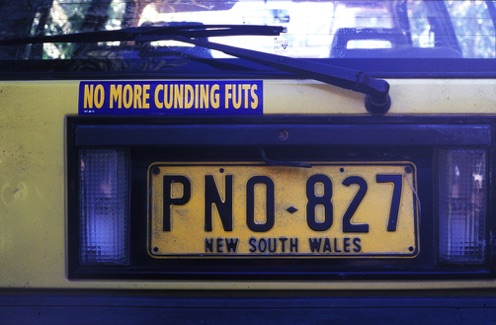 Cunding Futs - sticker published as a part of the Tipping's artworks for the 9th Biennale of Sydney, 1992 (director, Anthony Bond). Shown on the author's car in 1992. Photograph © Richard Tipping
Size: 5 x 25 cm Edition: 3000
No More Cunding Futs - sticker for the 9th Biennale of Sydney, 1992-93. Edition of 3000. Shown on the author's car in 1992. Photograph © Richard Tipping.
NO MORE CUNDING FUTS, 1992
"A bumper sticker, made in an edition of 3000-plus for the Biennale of Sydney in 1992. They were given away at the entrances to Biennale exhibitions, and soon appeared in lots of strange and interesting places. The official story was that the proof-reader had been retrenched. There was also a sting in the tail: genuinely painful funding cuts by government to all kinds of activities in health, education, childcare and the arts were and still are occurring in the economics of supposed recession. In 1993 this sticker was picked for distribution by Printed Matter Bookstore in New York. This print is the image of the sticker that has stuck. I wanted the original stickers to look expensive, being well made and cheerfully coloured to act as a counter-point to its 'cheeky-bugger' message."
Introduction to A-4 printed notes on works, included with the folio of The Sydney Morning Volume III,  Thorny Devil Press, 1992  Edition of 50. Twelve screenprints.

(c) Richard Tipping All text and images are copyright and protected by international legislation. See the Copyright page for more information. For permission to use any of these materials please see Contact page.