Poetry books
Tommy Ruff: Adelaide Poems, PressPress, Berry, NSW #available
Notes towards Employment (early poems), Picaro Press, Warners Bay NSW, 2006
Five O'Clock Shadows, Thorny Devil Press, Newcastle 1989
Nearer by Far (poetry, hardback), University of Queensland Press, 1986
Headlines to the Heart (poetry, with drawings by Mazie Turner), Pothole Press, London, 1985
Domestic Hardcore (poetry), University of Queensland Press, 1975
Soft Riots (poetry), University of Queensland Press, 1972
Visual poetry
Love Cuts (photographs, poems,essays with Chris Mansell), Wellsprung Productions, Berry, NSW, 2013 #
Off the Page and Back Again (visual poems and sculptures), Writers Forum, London, 2010
Subvert I Sing (visual poems and graphics), Red Fox Press, Ireland, 2008 #
Diverse Voice (visual poetry), The International Poetry Archive, Oxford, 1985
Photography
Signs of Australia, Penguin Books Australia, 1982
Guess What? Thorny Devil Press, 2015. Prototype b&w postcard book, 24 cards, 12 from Signs of Australia and 12 previously unpublished.
Art print folios
LovePoems (20 screenprints on pattern paper) 2007, to be released as a folio by Thorny Devil Press in 2015, in an edition of 9. Some individual prints beyond folio edition. #
The Sydney Morning (50 screenprinted and letterpress visual concrete poems, in four folios), Thorny Devil Press, Newcastle, 1989-1994. Eight complete sets available, in cloth covered archival folio boxes. Some individual prints beyond folio editions. #
Word Works (11 large screenprints, edition of 11), Adelaide 1979. One complete set in artist's collection. A few individual prints. #
Art catalogues
2012 Off the Page, Customs House Gallery, Sydney
2008 Only Emotion Endures, Australian Galleries, Sydney #
2007 Multiple Choice, Lake Macquarie City Art Gallery, NSW #
2005 Roadsigned (postcard pack), National Gallery of Australia, Canberra
2002 Public Works, Greenaway Art Gallery, Adelaide, 2002
2002 City Rubbings (poster folded as a booklet) Conny Dietzschold Gallery, Sydney and Cologne #
1997 Hear the Art, The Eagle Gallery, London #
1996 Multiple Pleasures, Art Gallery of New South Wales, Sydney
Poetry anthologies
Richard Tipping's poetry has been included in over sixty anthologies including: The New Penguin Anthology of Australian Poetry, edited by John Kinsella (2008), The Penguin Book of Modern Australian Poetry, edited by Phillip Mead and John Tranter (1991), and the New Oxford Book of Australian Verse, edited by Les Murray (1986).
# some copies available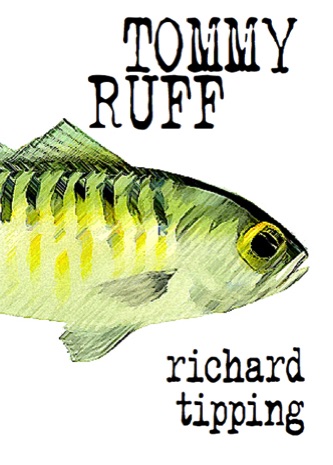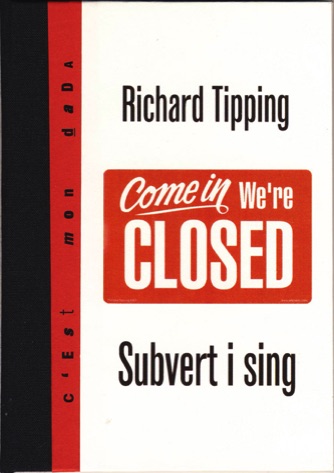 (c) Richard Tipping All text and images are copyright and protected by international legislation. See the Copyright page for more information. For permission to use any of these materials please see Contact page