(c) Richard Tipping All text and images are copyright and protected by international legislation. See the Copyright page for more information. For permission to use any of these materials please see Contact page
NEWS
Hidden Cemetery Sculpture Walk - installation of Breathe, made with three sea stones, each engraved with one word. This exhibition includes forty sculptors, in Sydney's largest cemetery. Link to Hidden site.
Sulman Prize finalist at AGNSW. A new signwork Jump Start has been chosen for the Sulman as a part of the Archibald exhibition in 2016, an exhibition on until 9 October. See it here
The Art Gallery of New South Wales acquired thirteen artworks in 2015. The Gallery purchased ten large editoned reflective signs, and the artist donated three sculptures including Whispering Fence, an eight-metre hardwood picket fence. Most have been photographed and added to the Gallery's website.
At Sculpture by the Sea at Bondi, Sydney, in 2015, Tipping's work was a combination of two signworks, making up Speed Trap. See this in the Signs Signed section.
Work Art Work (Werk Kunst Werk) in Kassel, Germany, July 2015. Curator Jurgen Olbrich brought together fourteen artists from Europe, the USA, Australia and New Zealand. Tipping's made two installations: see Just Say Yes in Public Art and Swinging Voter in Signs Signed.
Lightwork commission for a private collector is a new work heading to New York. 'Theaters' is an LED (light emitting diode) sculpture 180cm long animating dramatic sequences from within the letters of THEATERS. To be added to this site soon.
The Print Department of the British Museum aquired 56 prints: six from the folio series Word Works (1979) and the fifty prints of The Sydney Morning folio series (1989-1994). Curator: Stephen Coppel.
Friendly Street Poets published its 39th anthology, forty years after Tipping co-founded the Friendly Street poetry readings in Adelaide in 1975, and edited the first anthology in 1976. His launch speech is available on the Friendly Street website.
Richard Kelly Tipping moves between poetry and art - making word art works - with worded images and textual sculpture.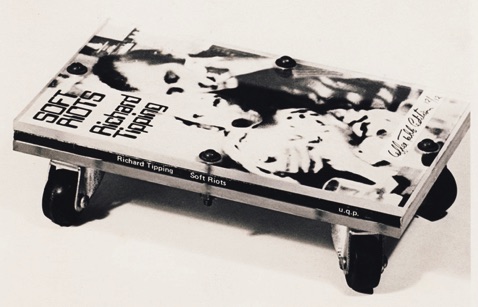 Soft Riots Coffeetable Edition, 1973. Poetry book between perspex sheets, on castor wheels. Edition of 12. Shown in Soft Riots exhibition with Aleks Danko at Watters Gallery, Sydney, in 1973. Photograph by Richard Tipping.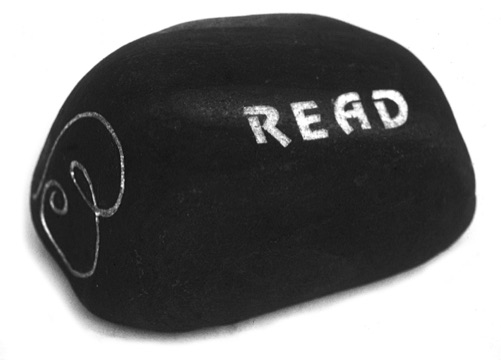 By B read Alone, c 1991. Inscribed beach stone, goldleaf. Private collection, whereabouts unknown. Photograph by Richard Tipping
Cunding Futs, 1992-93. Sticker. Dimensions 5 x 25cm. Edition of 3000. Commissioned for the 9th Biennale of Sydney, directed by Anthony Bond.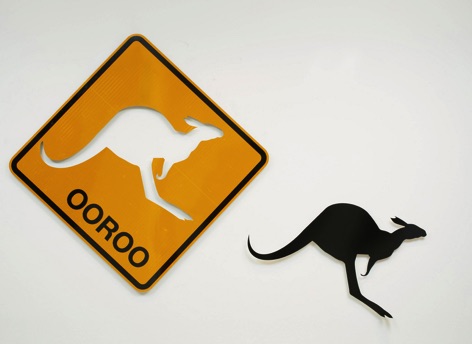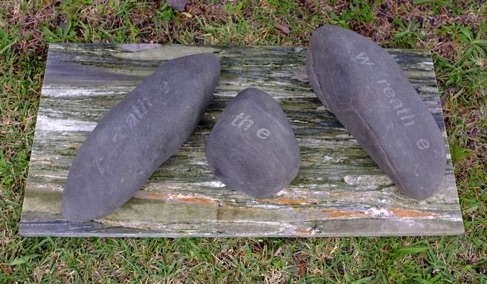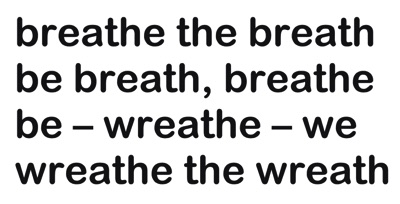 Breathe, 2016. Three sea stones on a marble base, 100 x 40 x 20 cm